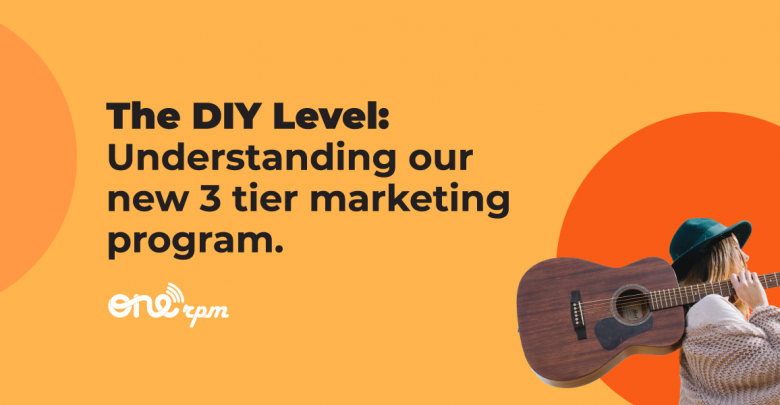 DIY, Taking Off, Next Level: DIY
Learn About The DIY Level in Our New Three Tiered Marketing Program
ONErpm is the only music company that provides scaling assistance to best suit the needs of each individual artist. As you build your audience and develop your fanbase,   new, more sophisticated tools will become available through our three-tiered artist program:
DIY

Taking Off

Next Level
Click here to learn about the second tier: Taking Off
In this post we'll start with the basics, outlining the tools and resources available to DIY artists and how to utilize them to up your game and move to the next level.
The DIY Level
DIY means "Do It Yourself," but at ONErpm we don't think you should have to go it alone! DIY is less about the number of streams or the size of an artist and more about the infrastructure an artist has built to support themselves. 
The DIY level of our artist's program provides easy, manageable tools for our artists because we believe your time is better spent making new songs instead of worrying whether your music is going to be released correctly. 
So what's available at the DIY level? At the DIY level, ONErpm is a self-service platform open to all creators. DIY artists have access to a comprehensive suite of automated delivery, accounting, business intelligence, and promotional solutions. 
So what does this mean? Long story short, ONErpm's artist dashboard makes it easier than ever to distribute your music to any and all stores! Then, when you start smashing those streams, we'll handle everything on the business side! This means we'll track your finances, localize data from different platforms, and anything else you can think of in the one-stop shop that is your artist dashboard.
On top of all that, DIY users also have access to custom marketing and promotional tools! Through your artist dashboard you'll be able to access pre-saves for your upcoming releases, DIY marketing campaigns to help break your music, Spotify for Artists for more breakdowns on Spotify, Spotify for Artists pitching to get some sweet playlists placements, and Apple Music For Artists to track your data there!
Leveling Up
All these tools! All this data! Where to start? With so much available to you it can be hard to know where to start your meteoric rise at ONErpm. Here are some tips to get you started! 
Use your pre-saves! Pre-Saves are meant to engage your core audience and are essential to know who your fans are. By navigating to "Daily Stats & Marketing", "Promotional Tools" and finally "Pre-Saves / Smartlinks" You can see where users are pre-saving your music and often even the emails of those users. This is great for refining your strategies to who and where your users are as well as to help you start building a mailing list of your fans. You can even use the pre-save tool to run a contest by picking a winner from the emails that you get submitted!
Make some promo art! Promo art is time-consuming and often expensive to outsource. Using our promo art generator you can quickly create awesome content to post on your profiles and let your fans know what's coming.
Pitch your music! Looking to get your music on major editorial playlists? This is how you do it! Through your artist dashboard, you can have your music sent to the DSP curators for a chance to have your track get a major playlist to add.
Learn what works! At the end of the day the ONErpm Dashboard is an endless source of tools and resources; so have fun and mess around! Each artist is different: what might work for John Doe the country artist might not make sense for Lil J Dough the hip hop star, or Johnny Doh the punk rocker. So get in there! Figure out what's best for you and start working towards the Next Level with ONErpm.