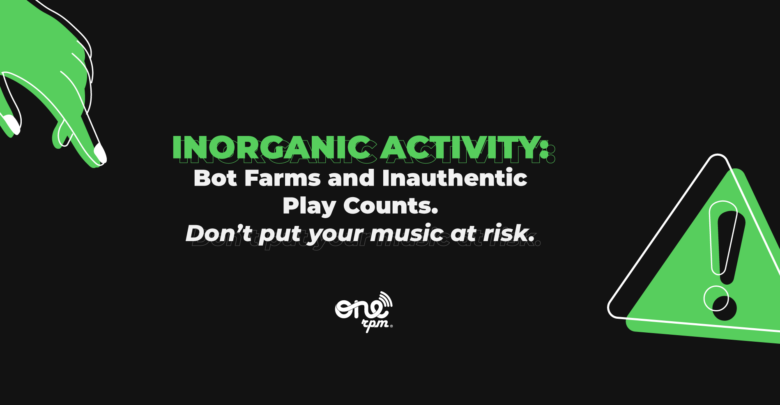 Inorganic Activity (Bot Farms and Inauthentic Playcounts)
Don't Put Your Music At Risk
As your trusted partner, we wanted to take a moment to warn you about some deceptive advertisements we've recently seen for illegitimate music promotion services.
Make The Right Choice When It Comes To Promotion
Third parties that promise playlist placements or a specific number of streams in exchange for compensation are likely using illegitimate practices without your knowledge. These services can threaten your hard work, resulting in the potential withholding of streams or royalties, or even complete removal of your catalog from streaming services.
Our streaming partners work diligently to ensure streams are legitimate, meaning they reflect genuine user listening intent. If a service finds that you (or a third party hired by you or on your behalf) have boosted play counts through any automated, deceptive, fraudulent, or other invalid means (digital bots, "click farms", payment for placement on playlists, etc.), the service may permanently remove your entire catalog.
If you're in the market for a music promotion service, make sure to do your research before you hire them.
Paying For Streams Is Never A Good Idea
Buying streams is an illegal practice to try to get more money for the song on streaming platforms. It is also strictly forbidden in the ONErpm ecosystem.
The artist caught engaged in such behaviors can have their album permanently removed (with no chance of recovering) from digital platforms without notice. This type of practice is not considered legitimate by the platforms, it goes against the rules of good practice and is characterized, by the legal scope, as fraud.
The decision to delete an album is made, solely and exclusively, by the platforms on a permanent basis, that is, ONErpm will not be able to resend the album/EP/single if it is removed for that reason.