Meta Ads for Musicians: Content Strategies
The Dos and Don'ts of Advertising Music on Facebook and Instagram
Once you've figured out how to navigate Business Manager, there's another hurdle: selecting the content for your ad. But don't worry, the ONErpm Direct-to-Fan Advertising team is here to help with some of our top tips and tricks for selecting ad content for Facebook and Instagram.
Choosing A Content Strategy
Creating a great ad is easier than you might think. These are two of our favorite content strategies:
Content Strategy #1: "Organic" Content
We call this "organic" in quotes because even though it's an ad, it's in the style of an organic post. If you've ever made an Instagram Reel lip-synching or dancing to your own song, congratulations! You've got an ad. This content works great because it doesn't immediately look like an ad – it looks like a regular post on Reels, so people aren't as tempted to scroll past right away. It's also a great opportunity to show the artist as a real, creative person. Plus, if this is the kind of content you post a lot on Instagram, it can be a great way to get more followers as well as streams on your song.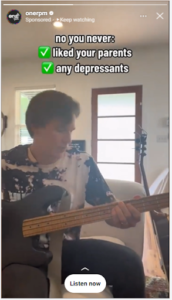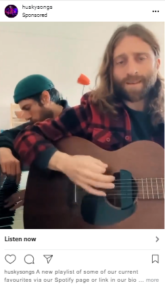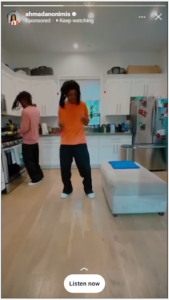 Examples: Winona Fighter, Good Boy Daisy, Husky, and Ahmad Anonimis
There are some rules for this strategy, however. First, use text strategically. Try to encourage people to turn the sound on without having to say "turn the sound on." And don't just say "new song out now." It's supposed to look natural, remember? Secondly, let the music speak for itself. Your song should be the only audio. If you start your ad with "Hey, this is Mike from Band Name," – no. Delete it. Start over.
Content Strategy #2: Music Video Clips
This strategy has a somewhat higher barrier to entry since you need a music video first. But if you've already paid a bunch of money to get a video made, why not get your money's worth? Using clips from the official music video in ads helps to promote both the song and the video. It also looks polished and professional and helps you stand out in a feed full of homemade content.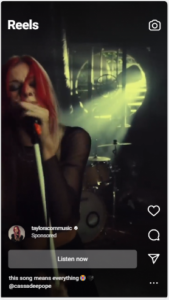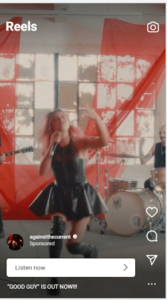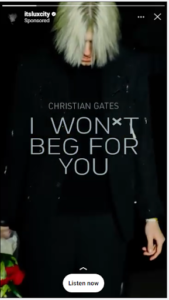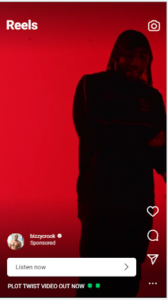 Examples: Taylor Acorn, Against The Current, Chri$tian Gate$, and Bizzy Crook
Just like with strategy #1, there are some rules here. For one, you want to avoid blocking your cool visuals with too much text. If you really want to put "Band Name – Song Name – Out Now" on your clip, put it at the end. It's also very important to have a link to your music video on YouTube in the smart link you're advertising, in case viewers like what they see and want to watch the rest of the video. 
The Worst Content Strategy: Visualizers
If you're reading this and thinking, "I don't have the budget for a big flashy music video. I'll just make a neat visualizer for my song and run ads with that!" Stop. Rethink your life choices. Visualizers – still images that have been lightly animated in time with the music – don't work well as ad content. The small amount of motion isn't enough to attract or keep the attention of somebody scrolling through Instagram. If a music video isn't in your budget, scroll back up to Content Strategy #1. 
Choosing Ad Assets: Testing
If you're trying to decide which clip to use for your ads, you can test your assets simply by posting them to TikTok or Instagram Reels a day or two apart. The video that performs the best organically will usually perform best as an ad. This allows you to essentially A/B test your assets without wasting your budget on an ineffective asset.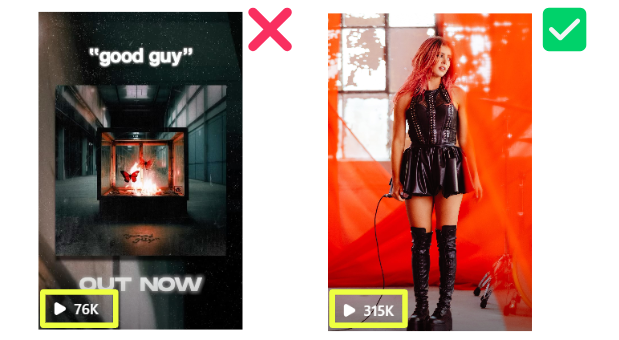 Choosing Ad Text
Unless you're only running ads on Instagram Stories, you'll need a headline or caption to help draw viewers in. We recommend coming up with a unique call to action instead of just saying, "check out our new single." You can ask a question, like "What would you do?" You can tell a story about the song, like what it's about or who you wrote it for. Or try using an intriguing song lyric out of context. Use emojis for a pop of color and personality.
Technical Specs
And now for the nitty-gritty: we recommend making two versions of each asset: a square version for feeds and a vertical version for stories and reels.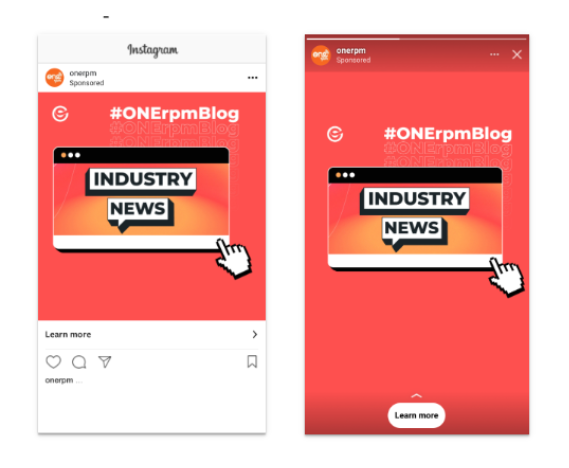 Feed ads
Aspect Ratio: 1:1

Minimum Resolution: 1080px x1080px

Maximum File Size: 4GB

Length: 15-30 seconds
Story/Reels
Aspect Ratio: 9:16

Minimum Resolution: 1920pm x 1080px

Maximum File Size: 4GB

Length: 15-30 seconds