Social Spotlight: Taylor Acorn on TikTok
3 Tips for Becoming a TikTok Rockstar
In this series, we're shining a light on ONErpm artists who are killing it on social media and seeing what other artists can learn from their successes. This week, we're taking a masterclass in TikTok with pop-punk queen Taylor Acorn.
Taylor has more than three-quarters of a million followers and has gotten nearly 10 million likes since her first post on the platform in 2020. Her content ranges from concert footage and acoustic covers to personal anecdotes and lip-syncs. We took a deep dive into Taylor's TikTok profile and found three key lessons that other artists can learn from Taylor's TikTok success:
Engage with Trends
To really be a part of the TikTok community, you have to join in on the trends. Not all of them, mind you: definitely don't take on the Milk Crate Challenge or eat anything that isn't food. It's not worth it, guys. Trending music, though, is a great (and safe) way to engage with the community and reach new audiences.
If you've been on TikTok at all in the last few months, you've definitely heard the song "ceilings" by Lizzy McAlpine. Taylor Acorn did her own version, which has 250,000 views and counting. She also regularly uses popular hashtags with communities around them, like #ElderEmo and #itsnotaphase.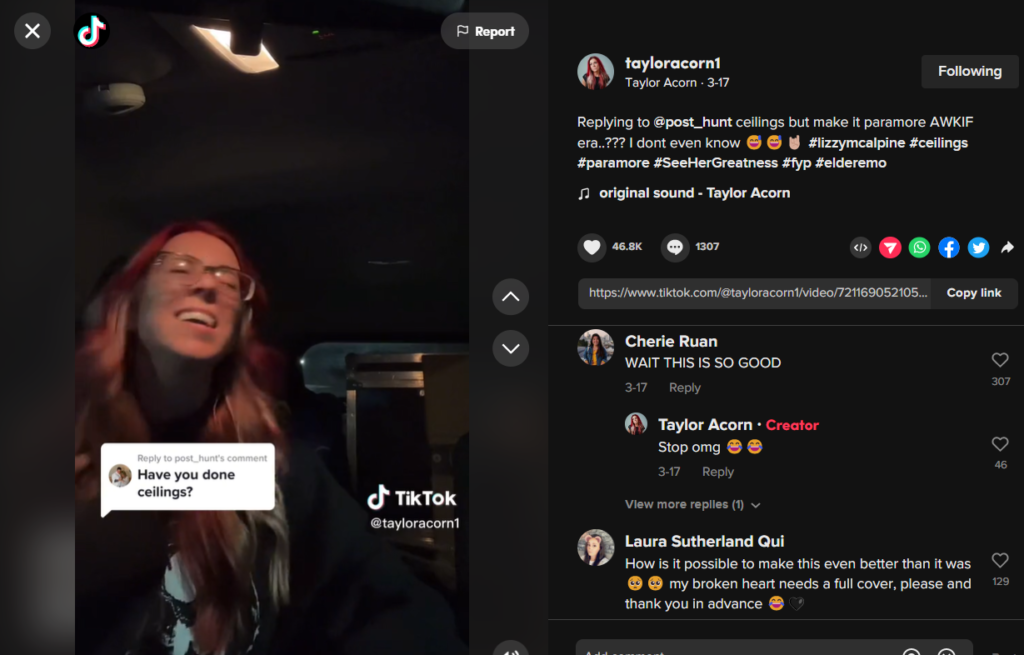 Be Real
In a social media landscape full of filters and deepfakes, it's refreshing to see someone being themselves. Musicians have a lot of opportunities to show off their most polished looks – photoshoots, music videos, concerts, etc. Social media gives you an opportunity to drop the act and be real with your fans – and you don't have to be on BeReal to do that. Not every post has to be completely raw, of course, but you reinforce your bond with your followers when you treat them like your friends and give them a glimpse behind the scenes. 
Mental health is an important part of Taylor Acorn's brand. Many of her songs are about her own struggles with depression, anxiety, and impostor syndrome, so it's natural for her to discuss these issues on TikTok as well. She is also not afraid to go with a "no makeup" look or show off her routine, like when she flipped the "get ready with me" trend on its head with her "get unready with me" video of her taking off her makeup.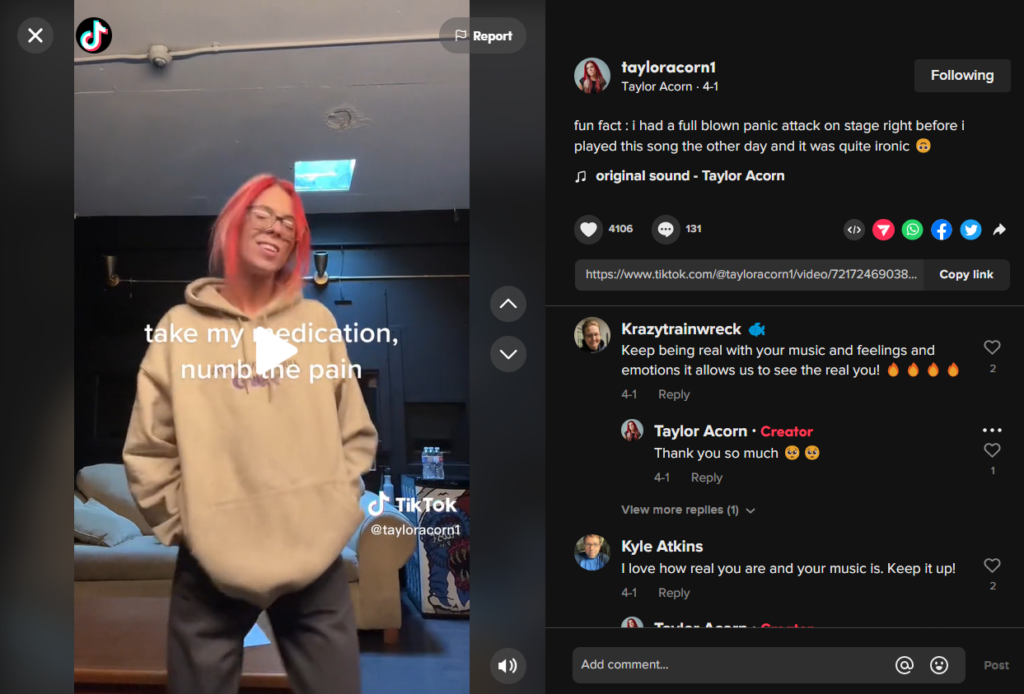 Make it a Conversation
Social media is a two-way street. If you want people to engage with your posts (meaning commenting, liking, and sharing), you have to engage back. Making fans feel seen is the best way to encourage continued engagement, which, in turn, tells the TikTok algorithm to keep serving your posts. So reply to comments. Answer questions, take requests, and respond when you're tagged in someone else's post. That's how you turn viewers into fans.
Here's a masterful example: In February of 2023, a young fan and her mom tagged Taylor Acorn in a video asking about disability accommodations at an upcoming show. Taylor commented quickly to thank them for the message and promised that she'd talk to her team. Two months later, the fan followed up with footage from the concert. Taylor not only commended on the original post, but then posted a duet of her reaction. This is both incredibly cute content and a great way to show fans how much you appreciate their support.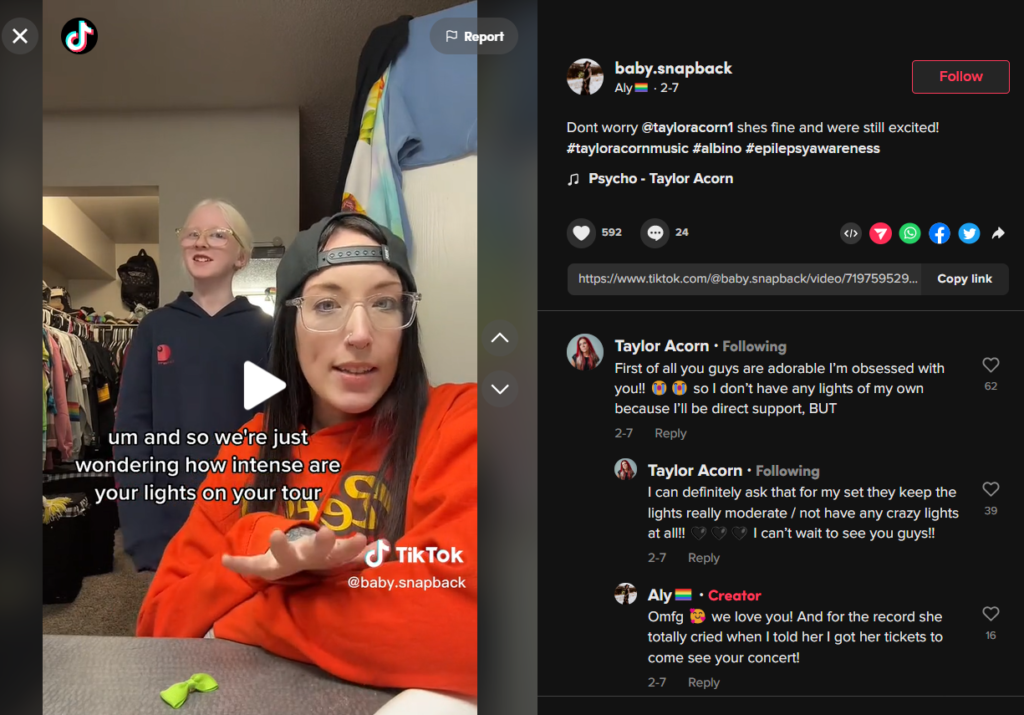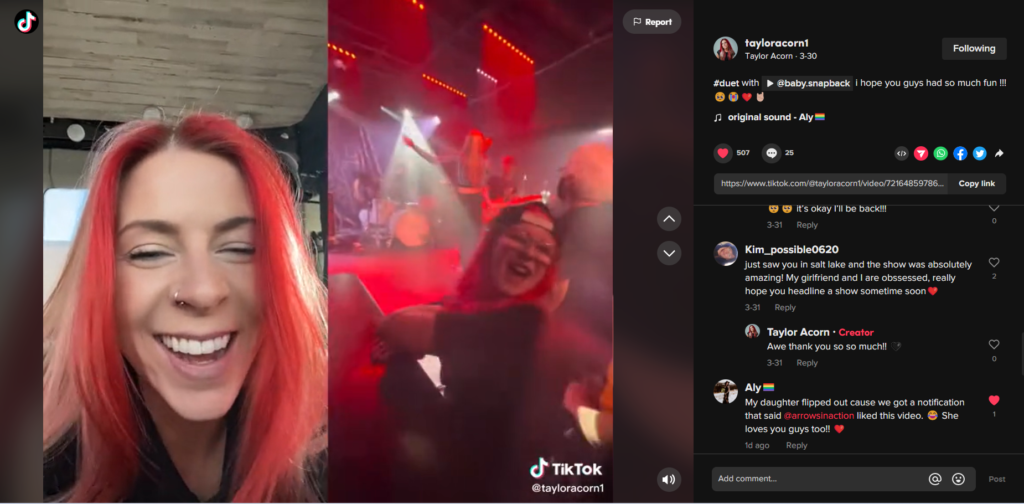 If these techniques don't give you an immediate influx of follows and likes, don't give up! These are all long-term strategies for building a community around your music, and that's not something you can rush. Taylor has posted more than 350 videos over nearly 3 years to get where she is now. Patience is key!
The social media landscape is constantly changing and there's always more to learn, so check back here regularly for more tips and tricks from ONErpm artists.