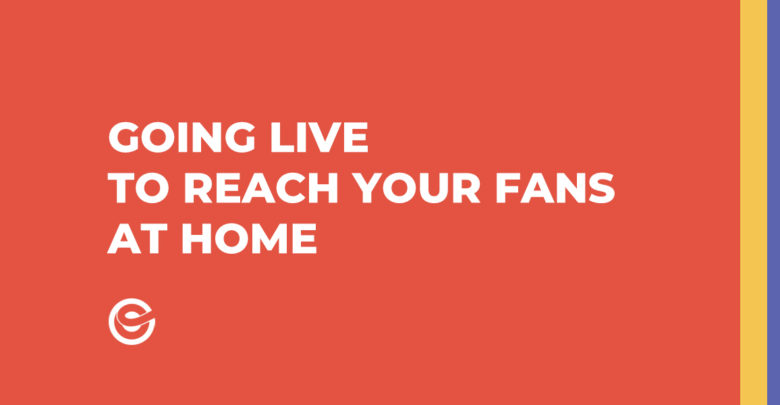 Going Live to Reach Your Fans at Home
Taking a look at a few of the key live-streaming options for musicians
Being quarantined during the COVID-19 pandemic doesn't mean you're cut off from your fans. Going live to have conversations or intimate performances is a great strategy to maintain engagement with your audience.
While we're all stuck at home, more people are staying online longer, giving you more opportunity to reach them. 
Establish a programming grid (learn more) for your social networks that entertain and inform and present a repertoire that speaks to the current times, and that helps your fans to process the difficult moment that we are going through.
Tools and Platforms
Choose the platform on which you're most active and feel most comfortable. It's also important to ensure that the platform you choose aligns with your overall marketing objectives, and of course making sure the audio and video quality of your stream is up to your artistic standards (more on that here). Here are some of the unique aspects of each platform:
YouTube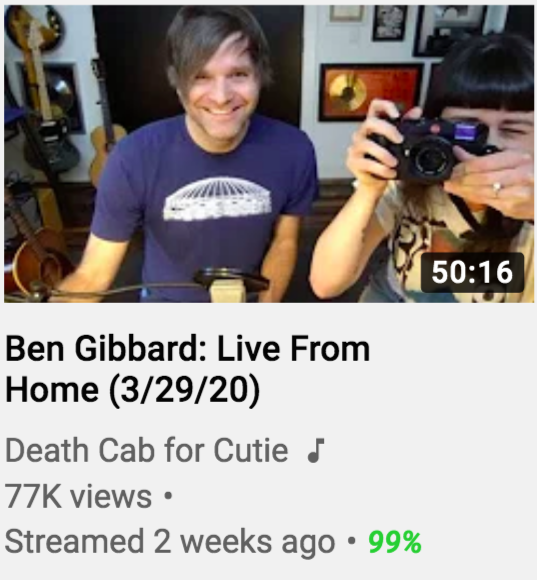 Ben Gibbard has been going live from home regularly during quarantine
YouTube is the world's largest streaming platform and has become the premier destination for artists' live performances during this pandemic. The upsurge in activity at the beginning of the quarantine was so great that YouTube had to decrease the resolution of videos in some countries to keep their servers online.
Despite being a great tool to attract fans to your channel, the YouTube Live depends on the hard work of artists to bring fans from their social networks for live streams. This increases the responsibility and workload for artists and management in the run-up to the live performance.
Artists need to  publicize their forthcoming live broadcast through any means they can. One potential idea is to use your engagement and reach on other networks, like Instagram to make them aware that you'll be going live on YouTube. You can even set up a phone to go live on Instagram for your first song in order to attract some fans there and then end your IG broadcast but leave the link to the ongoing YouTube stream available in your story. YouTube also offers tools to promote the live broadcast like Stories For Creators and the Community Tab – just make sure you're engaging with them well in advance of when you plan to go live, as people don't check their YouTube subscriptions as often as they do the folks they're following on Insta. All your channel's subscribers will receive a notification as soon as you go live. 
PROs: The largest streaming platform in the world. Going live can increase your subscriber-base and generate valuable views. YouTube is one of the few platforms that brings revenue for this type of effort. Artists' CPM payout has been growing since the launch of YouTube Music – the company's subscription service.

CONs: Fans don't always notice the notifications they get from YouTube channels they've subscribed to, and it's a less 'sticky' app, so they're less likely to already be browsing on it when you go live. 
Find out more:  https://support.google.com/youtube/topic/9257891?hl=en&ref_topic=9257610
Instagram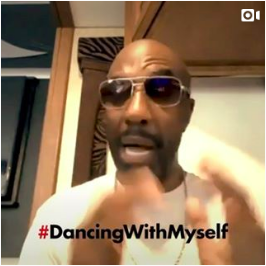 JB Smoove promotes a hashtag for his live show You Are Here 
Probably the most popular social network for artists and fans alike, Instagram Live is successful for artists because of the convenience – your fans are already scrolling away. However, Instagram (like Facebook ) does not monetize your content. Artists should always remind their fans to follow them on streaming platforms like YouTube, Spotify, Deezer, Napster, Apple Music, Amazon and the like.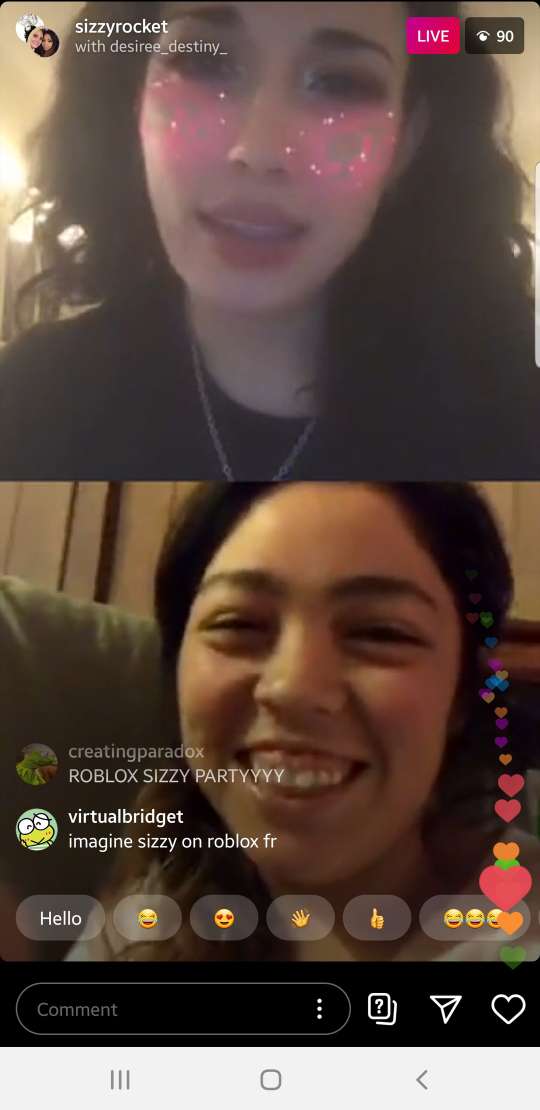 Sizzy Rocket plays with filters and chats live
PROs: Popularity and an actively engaged user-base

CONs: The fact that a lot of people going live right now means that your live session can get lost. It does not monetize musical content.
Learn more: https://help.instagram.com/292478487812558
Facebook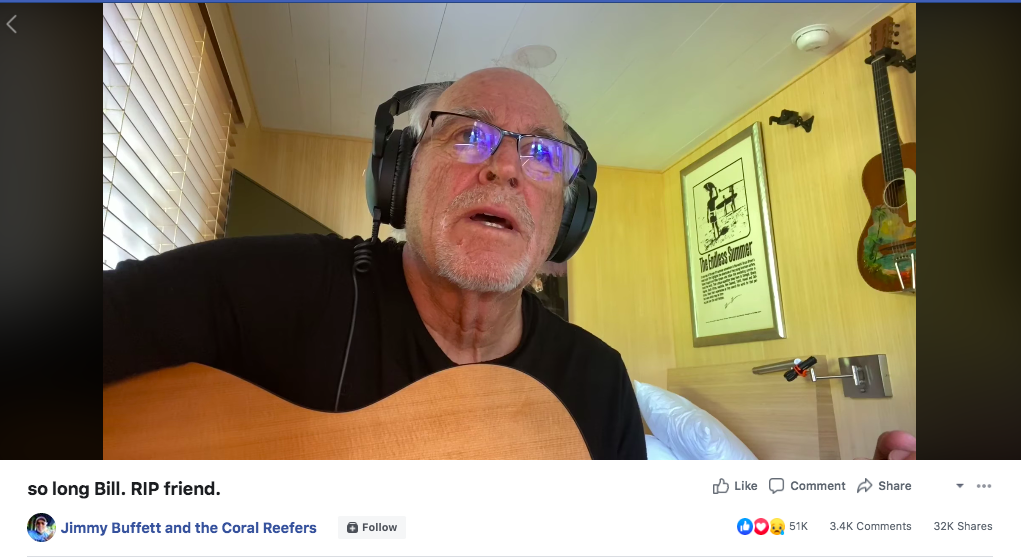 Jimmy Buffett mourns the passing of Bill Withers
Even though live-streaming was already a well-established feature on YouTube, Facebook brought a whole new audience into the mix when they debuted their Facebook Watch tool in 2016. With a user-base that exceeds 2.5 billion people, Facebook is the biggest social network on earth, and an artist choosing to ignore it does so at their own peril. The Facebook Live tool is easy to use and can be activated from your cell phone, computer, or by using specialized software such as LiveStream.
PROs: Its enormity and ownership of Instagram combine to make a massive readily accessible audience.

CONs: Since 2018, the reach of organic posts on the platform has dropped dramatically, which may hinder the reach of your live session.
Learn more: https://www.facebook.com/facebookmedia/solutions/facebook-live
Twitter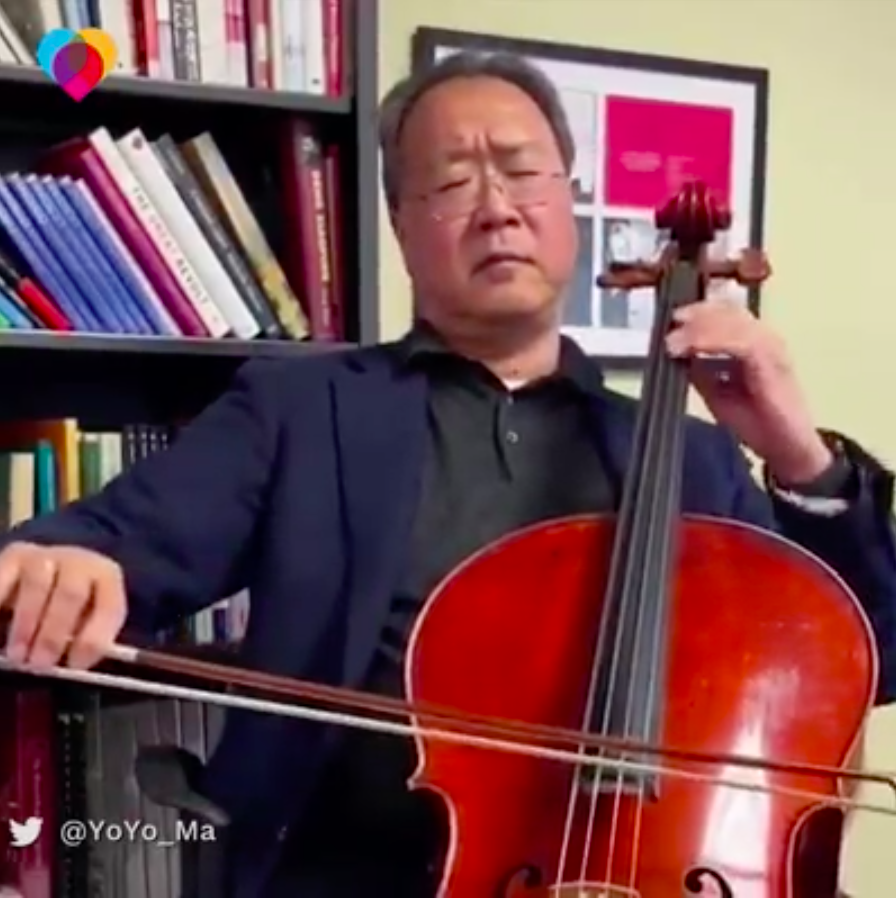 Yo-Yo Ma performs on Twitter
The social network is very successful among opinion makers, influencers and journalists and has an extremely dedicated user-base. Artists can go live with up to three participants (1 + 2) in audio and video format or audio only. 
The tool also allows the sharing of recorded videos and replays.
Learn more: https://help.twitter.com/pt/using-twitter/twitter-live  
PROs: Conferencing in up to three participants.

CONs: Not a video-forward platform, as users are more engaged in conversation than in watching the latest stream