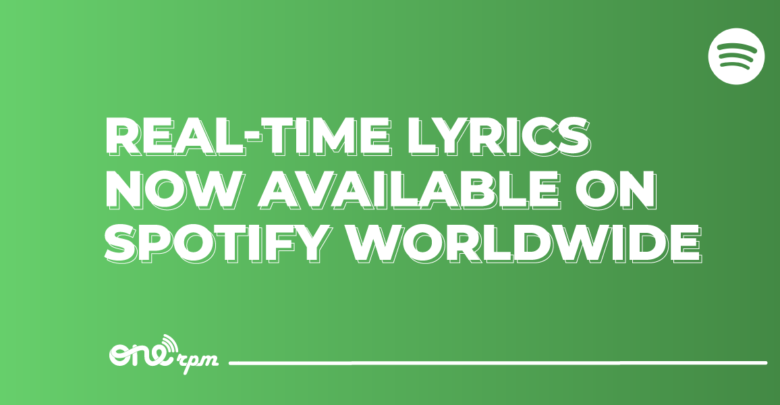 Lyrics Are Now Available On Spotify
What A Time To Be Alive
Good news ONErpm fam! After being one of the most requested features for listening and interacting with music on the platform, Lyrics are now available on Spotify worldwide. Thanks to this exciting new update, it will be possible to discover the lyrics of your favorite songs. You'll also be able to share them directly to social media, so get those salty Instagram stories ready! This new feature will be available on all devices in both the free version of the app and on a Spotify Premium subscription, so don't worry if you aren't a paid subscriber.
Thanks to Musixmatch, Spotify users will now be able to view the synced lyrics of most songs on the platform in real-time. We know how excited you all must be, so we prepared answers to some questions we expect to arise with this new feature.
How to Add Lyrics to Spotify Using Musixmatch Service
To add your lyrics to Musixmatch and sync them to Spotify, you need to do the following:
Register at musixmatch.com
Verify your artist profile
Enter your profile on the site
Add the correct lyrics to your songs, following Musixmatch's instruction
Synchronize lyrics with music
You can read more about Musixmatch here.
How To View The Lyrics Of A Song
In The Spotify Mobile App
While listening to a song, swipe up from the bottom of the screen. The lyrics will appear on the screen and will change in time as the track plays. Want to send your favorite lyric to social media? Hit the share button at the bottom of the screen, then select a piece of the song to post on social networks.
In The Spotify PC App
While listening to a song, click on the microphone icon in the horizontal listening menu.
The lyrics will then appear on the screen and change as the song plays. It's really that simple.
On The Spotify Smart TV App
While listening to the song in the lower right corner, press the "Lyrics" button.
After switching on, the text will appear on the screen.

It has never been a more exciting time to engage with your favorite artists on platforms. As an artist, this is an amazing way to highlight your pen game, while also giving fans a trendy new way to engage with your music, and create content.
Looking for more? Click here to check out all of our Artist Guides.