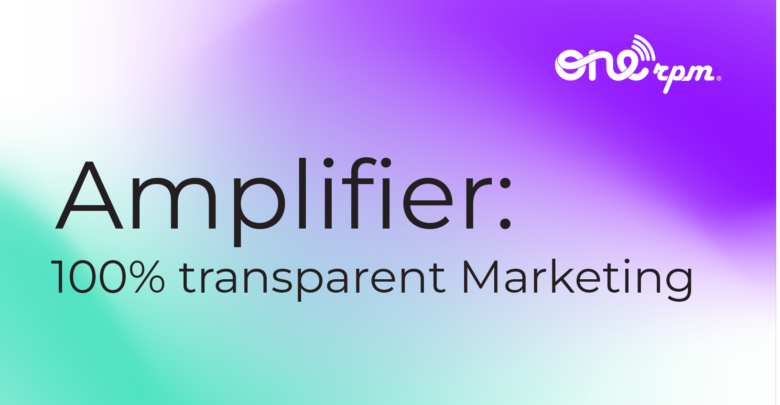 We've Officially Launched Our New Marketing Feature 'Amplifier!'
Delivering Unmatched Transparency With Cutting Edge Technology
ONErpm is proud to present our new transparency-focused tool 'Amplifier.'
The music industry has always been prone to transparency issues, with the major labels that control the market often withholding or altering key information on their promotional activities. It seems to us that labels would rather lie or hide the truth, than truly provide artists with the tools they need to succeed. 
Today's artists are smarter than ever, and they deserve effective tools, resources and transparency into everything that goes on around their music. The resources to know who their fans are, the hardline data on their own finances, and what a marketing team is working on should all be well known to the artist. All this and more is what we're hoping to provide with our new tool 'Amplifier'
Amplify It!
ONErpm artists already had the inside scoop on their finances, with detailed reports explaining their payments to the penny. Now, thanks to 'Amplifier,' artists also have everything they need to run their own campaign or oversee everything that our marketing team is doing.
'Amplifier' is a Marketing Campaign Management System that provides artists with on-demand information and transparency regarding clients' marketing campaigns. Further, with assigned artist tasks located in your
ONErpm dashboard
, artists will also be able to see precisely which marketing initiatives are being worked on by our dedicated marketing teams.
Dig Into Some Data!
This new tool provides

real-time data

regarding how these promotional initiatives are impacting streaming and awareness on the daily.
Get Involved!
The
Amplifier
tool has concrete steps you can take such as building a pre-save or sending an editorial pitch, as well as steps we'll take on our side like adding endscreens to your YouTube videos, or making sure you're earning at the highest possible rate across platforms. 
Within Amplifier, there are 137 pre-defined marketing tasks and 47 tasks assigned to each artist's team. These tasks are organized by DSP, direct-to-fan, on-platform advertising, public relations, radio promotions, OOH advertising, YouTube channel video optimization, and more! Teams have the ability to create custom tasks and pre/post release activations with due dates to ensure completion.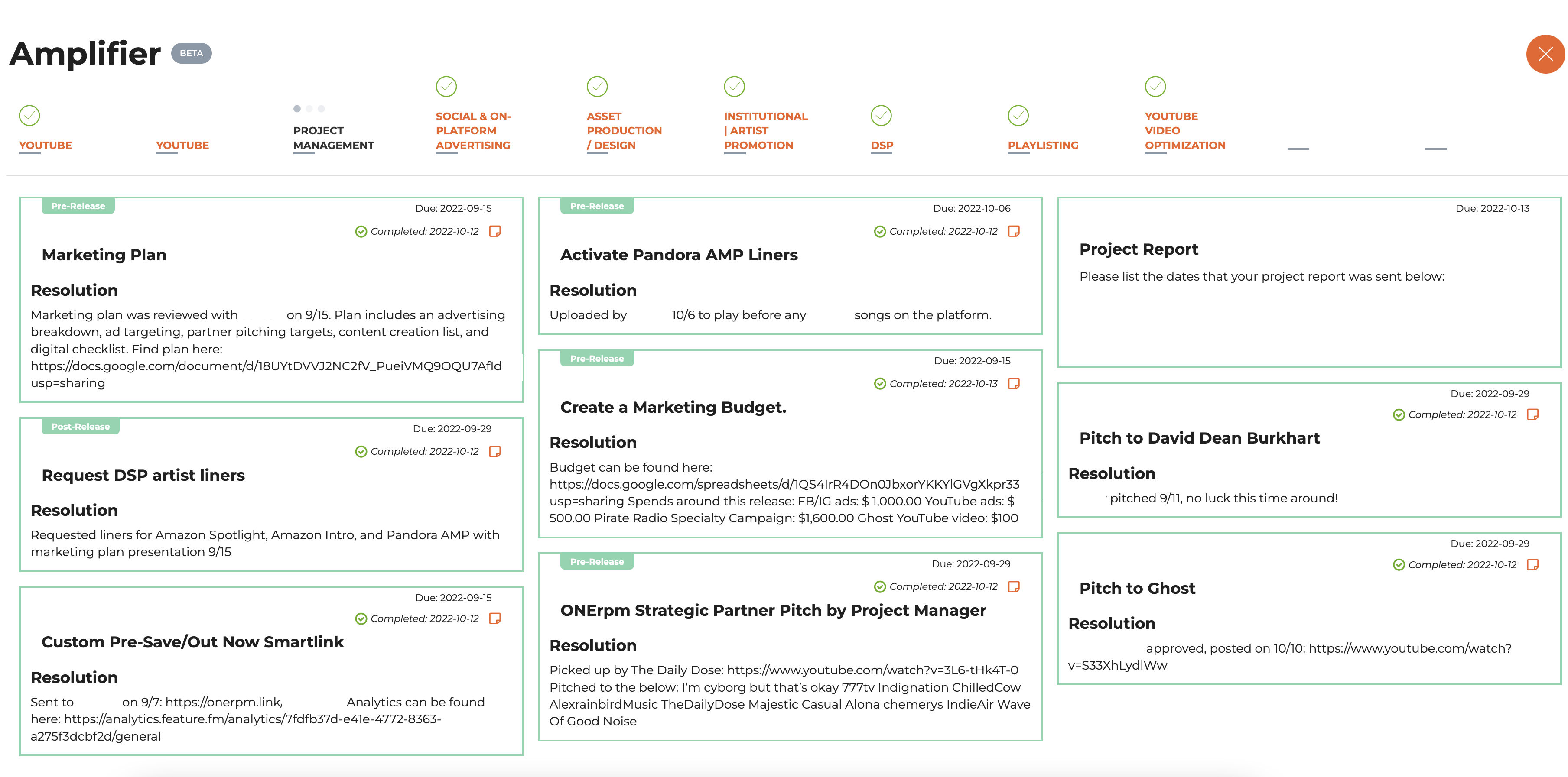 Each campaign is created by project managers to fit the size of the artist and the campaign objectives into mind. You can then follow along as tasks are completed each with custom insights provided from ONErpm marketing specialists.
Do It Yourself!
For our DIY artists, 'Amplifier' is condensed to 29 simple tasks designed with an artist's workload in mind. Each task includes a tutorial and best practices to help you get set up, and make the most of your campaign. Future versions of Amplifier for DIY will include AI and Machine Learning to create an even more customized experience.