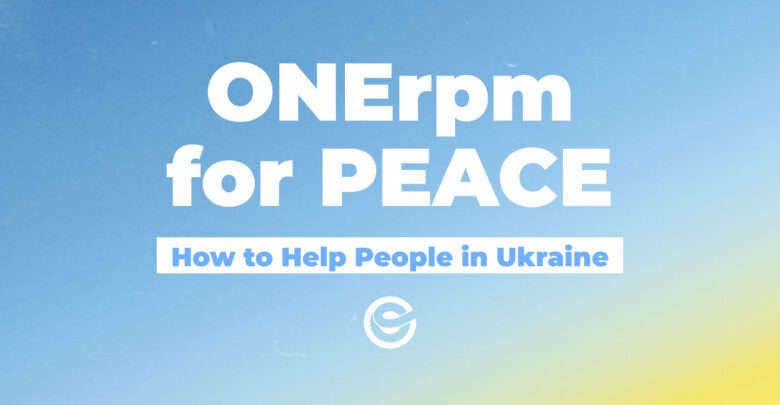 How To Help The People Of Ukraine
Check Out These Verified Resources If You'd Like To Aid Those In Need
All of us at ONErpm have been watching the invasion of Ukraine unfold with heavy hearts. We strongly condemn the violence taking place and stand firmly alongside the Ukrainian people. We also fear for the well-being of all civilians trapped in the country, including members of our team. Our main focus at this time is supporting our colleagues in the region as they navigate this unthinkable crisis.
While it may feel that there is little you can do to aid the people of Ukraine, that is not the case. Below you can find a list of relief agencies curated by our Russian and Ukrainian employees. Each of these organizations has been confirmed to be providing assistance and support to those in the region. 
Donate
Direct Donations:
If you feel comfortable donating directly, or perhaps are located closer to the conflict, we've added the information of two local organizations our team members have recommended. We've also included the delivery address of a medical aid organization in need of supplies.
CO "International Charitable Foundation "Come back alive"
IBAN Code (Euro):

UA093052990000026004025029786        

IBAN Code (US Dollars):

UA173052990000026009035028620

Bank:

JSC CB "PRIVATBANK", 1D HRUSHEVSKOHO STR., KYIV, 01001, UKRAINE

Bank SWIFT-Code:

PBANUA2X

Company address:

32 BOHDANA KHMELNYTSKOHO STR., KYIV, 01054, UKRAINE
Сharitable organization "Charity Foundation "East-SOS" 
IBAN Code: UA893005280000026007455028483, ОТP BANK
Reference # :

39764400

Correspondent Bank:

Deutsche Bank Trust Company Americas, 60 Wall Street New York, NY 10005, USA

Bank SWIFT-Code:

OТPVUAUK

Bank code (MFO):

300528
To donate medicines and first need goods:
Volunteer Warehouse Center – Help Ukraine!
http://www.helpukraine.center/
Warehouse address
Pol-Cel, Rampa Brzeska 63, 22-100 Chełm, Poland
Phone Number: PL +48 82 565 01 55
Phone Number: PL 00 800 1125102

Other Ways To Help

Don't Share Misinformation
What we do online can make a difference. In a time of conflict it can become especially tricky to know what being shared is and is not real. Sharing propaganda and misinformation can be really harmful, and lead to the creation of unhelpful narratives that draw attention away from key issues. Try to fact-check what you're sharing before posting by finding a secondary, verified source with similar information. This could be a major news organization or an NGO. DO NOT engage with posts that you know are fake. Commenting on the post is harmful because it signals to the platform that users may find it interesting. Try flagging it for review instead.
The United Nations recommends applying the 5 W's before you share online:
Who made it?
What is the source of the information?
Where did it come from?
Why are you sharing this?
When was this published?

Amplify Reliable Resources
Sharing reliable information is crucial. Try to only share information from authentic accounts. Language can be a barrier, so before you share anything ask yourself: Can you personally translate the language being spoken? If this is not possible, share from a verified source
If you share anything that wasn't true by mistake, remember to clean up after yourself. Anyone is capable of sharing misinformation, so be prepared to responsibly correct it and handle the fallout if you get something wrong. 
You can follow this link to Global Citizen's website, where they've compiled a list of verified sources of information about the conflict.
Consider Others
While some content may not bother you, imagery of conflict or injury can be triggering to others. When considering the value of what you are posting, ask yourself how it may affect the emotions of other people. Photos and videos of violence can cause a person to feel overwhelming sadness, anxiety, or panic. If what you are sharing comes with a content warning, it may not be worth posting.