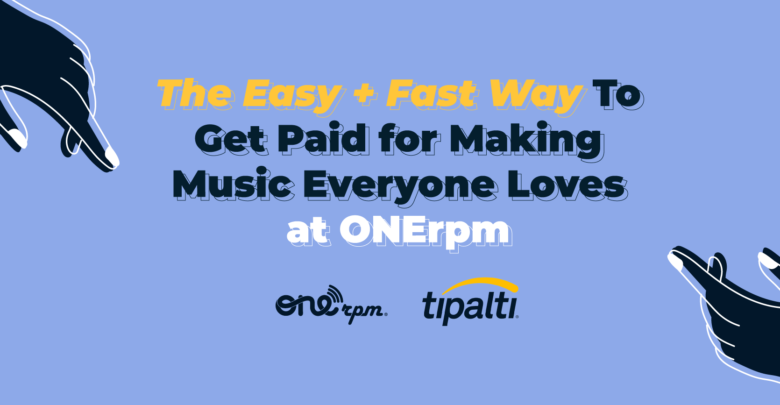 Tipalti: ONErpm's New Payments Partner
New Payment System From ONErpm
Introducing Tipalti 
Hey ONErpm Fam! We are pleased to introduce Tipalti, our newest payment processing partner. Any ONErpm artist or record label will be able to use three types of financial services to withdraw their money: PayPal, Payoneer (for countries that don't have PayPal option), and now: Tipalti.
Tipalti is a global remittance company that provides a comprehensive system of payments. ONErpm is pleased to announce a global partnership with Tipalti so that our family can access expanded payment options. 
This new service will allow you to transfer your royalties directly to your bank account, track your payouts with ease, and receive them faster. Remember: Tipalti is a new additional method and, if you are comfortable with previous methods of payments you can continue to use them.
Below, we'll break down how to set up your account and get familiar with this new system.
How It Will Work
Tipalti is a payment method that allows you to receive payments from ONErpm directly to your bank account (wire transfer) or receive an e-check. 

In order to withdraw your USD funds from your account with Tipalti, you will need to set up an account and enter your payment details.

Click on the button Setup Tipalti Account – There are steps that you need to set up your account:

Contact Information

Payment Method

Tax information  

After that, you set up your account, the information will be there automatically for future payments.
Please Note: if you need help filling the information or run into issues, Tipalti will be providing support to help you during setup. If you have any questions, please email supplieronboarding@tipalti.com.  
This new partnership is another thrilling step towards fulfilling our mission to provide artists with all of the tools necessary to succeed.
Have questions? Need help with anything ONErpm? Follow this link to our FAQ. 
Looking for more artist resources? Click here.