Introducing ONErpm Academy
The Launchpad For A Career In Music
Take Your Career To The Next Level
Last year, as musicians and the industry as a whole went virtual, our Brazilian office decided to host a virtual music conference to discuss trends in the music industry and share some of our institutional expertise. After the runaway success of that endeavor, we're taking it global.
ONErpm is proud to announce the creation of ONErpm Academy, our first-ever online educational event.
This brand new, online talk series will take place for our English-speaking audience from September 1st to September 3rd. Experts from around the world, as well as our own staff, will all be meeting to inform and empower artists.
We'll have conversations for artists of all sizes, as well as workshops, and showcase performances. Make sure you register now so you don't miss a panel. We'll be rolling out the schedule for the event, as well as some surprise guests over the next few days.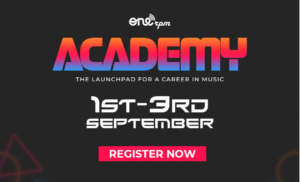 Click here for more information about ONErpm Academy  and check out the official press release for ONErpm Academy.