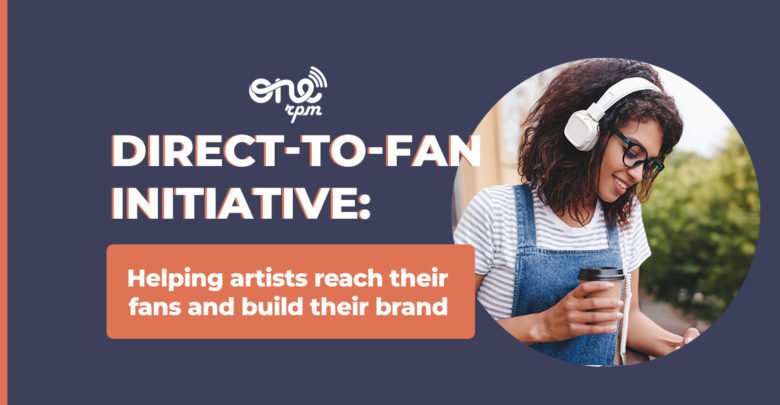 Direct-To-Fan Initiative
Helping artists reach their fans and build their brand
ONErpm's Direct-To-Fan Initiative
Right now, artists (and people, generally) all over the world are confronting a new reality without the face-to-face interaction they've come to count on. Whether it was a coffee shop open-mic, the heads at the record shop, a practice-space community, the pow wow around the mixing console in the studio, or an arena tour, we know as an artist you're probably missing that human connection. That's where the online direct-to-fan aspect of marketing comes into play.
It's the best way to make sure you're still front-of-mind for your fans while we're all missing human connection, and in the long-run it'll help you to build your audience no matter what the world outside looks like.
As the world becomes more virtual, you as an artist have the opportunity to go beyond a simulacrum of the outside world and create an immersive and exciting experience for your fans following along at home. We at ONErpm want to help with that so we've put together a write-up of some of the ways that we help artists and fans connect and some of the best strategies for doing so expertly. 
Run social ads
One thing we do to help artists build their audiences is to run ads for them on social media. We use the years of experience on our team to help inform our decisions, and we're happy to share some of those insights with you here.  A couple of the key things we try to keep in mind are as follows:
Suppress people that have already engaged with your content
If you've got a new video up on youtube and you're encouraging people to go check it out, make sure you're not bombarding the folks that have already engaged with the clip you posted on socials about it. They'll be the cheapest to hit, so FB Business Manager will want to serve the ad to them again, but you should make sure you're excluding them from your custom audiences. 
Narrow your affinity targeting
Target interests that ONLY the folks you want to hit will know. If you're a rock act, AWOLNATION may give you a smaller audience pool than the Red Hot Chili Peppers, but a lot of folks follow The Chilis for reasons entirely separate from their music. Think about well-established acts in your genre that aren't a cultural force of their own, outside their albums. 
Build a mailing list
Building a robust mailing list is one of the most important things an artist can do for their career. While the days of passing the clipboard around at the gig may be behind us, that doesn't mean you can't find ways to creatively collect more data from your fans. 
Using our pre-save tool, you can collect the emails from your fans that use Spotify, Apple Music, or Deezer. This will also help your chances at securing editorial playlist placements, as one of the key metrics those teams evaluate songs based on is their Streams-to-Saves ratio, essentially, the percentage of listeners that liked a song enough to save it to their library. The more you can increase the velocity of your song's saves from the second it releases, the better.  Read more about pre-saves here.
Send newsletters
Once you've got a mailing list, it's vitally important to put it to good use. Any time you've got a new single, album, music video, merch release, or a playlist you want your fans to follow, it's worthwhile to send out a mailer. Bear these tips in mind as you're doing so:
Make it essential and informative.
If you over-message your list you'll get unsubscribes and SPAM reports which will not only cut you off from reaching the people reporting you, but it might get you flagged by other email platforms and affect your ability to reach the people that do want to hear from you. 
Use images more than text.
Newsletters don't need to cover everything on your mind – focus on finding exciting reasons to drive people to click.
Execute influencer campaigns
We often work with influencer agencies to make sure we're working with the biggest, most engaged, best fitting folks we can find on social media. On smaller projects we'll solicit influencer posts directly. The key things to think about here are:
Gauge engagement, not followers
There are loads of ways to get a lot of followers; some obvious, like going briefly viral, and some less than ethical, like buying bot-follows. For this reason, think first about the percentage of followers that are engaging with an influencer's posts. Someone with 10K followers that's regularly getting 1,000+ engagements is going to drive a lot more clicks for you than someone with 100K followers getting the same amount of engagements – their fans are more passionate about them and will take their recommendations more seriously. 
Think about audience fit
Look at what the core audience-member for an influencer might really look like. If your audience is predominantly female, your instinct might be to seek out female influencers, but of course some of those influencers will have predominantly male followings because of the sort of content they post. 
Do contests
Are there ways that you can offer your fans something fun and exciting to participate in? We're all a little bit bored right now, and could use something to spice up our lives, give us something to look forward to, and feel that we're a part of. 
Featured artist social posts
We try to be diligent in promoting all the best releases that we have the privilege of distributing. Cross-posting with other artists can also be a huge boon, so it's always worthwhile to send out a DM here and there to artists with a similar footprint to you to see if you can do a social takeover
Go Live and Execute Premieres on YouTube
Any time you can interact with your fans in realtime, you can give them a more immersive experience than is typically available online. We've already done a series on the best ways to go live across platforms but you can also pair those sorts of strategies with fun features like the YouTube Premiere, so that you can take fans' questions in realtime (and boost your YouTube engagement) while you answer them on IG live or elsewhere. Check out more from YouTube here. Finally, if you've really got a passionately engaged fanbase and are prepared to put on a full-bore concert, you could consider having a paid stream on a site like fans.live or livexlive.com