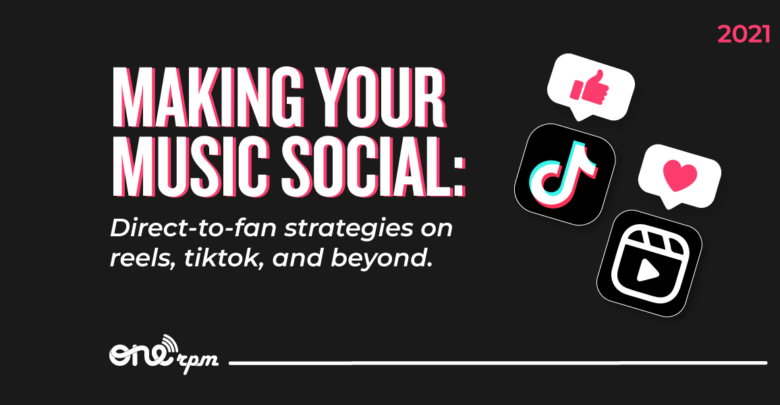 Making Your Music (More) Social
Examples Of How ONErpm Artist's Took Advantage Of Reels & TikTok
In our last article about taking advantage of social media to market yourself and your records, we broke down the major aspects of a successful social media strategy. To recap here are three things to always keep in mind:
Have a reason to post and make a plan

Make sure your music is in Facebook's audio library & TikTok's official sounds

Partner with influencers and content creators
Below, we're going to break down how some of ONErpm's top-performing artists have leveraged TikTok and Reels to gain attention.
When you think of using TikTok to launch your career to new levels, you should think of Louyah. His chart-topping record "I Used To Care" has made quite a splash over the past couple of weeks thanks to this viral TikTok post where his friends surprise him by getting his song on the radio. The video currently has close to 2 million views and helped Louyah grow his stream count by over 4 Million. He even landed a spot on Rolling Stone's July Breakthrough chart.
Gracie Carol, used her Tiktok to channel the way we all feel after a breakup. Inviting her ex into the car to listen to her new single (which is about him), she gives him the business over the aux until he has to leave. It was a perfect way to bring attention to her new record "Breakup Szn".
Emeline is another example of how artists can leverage short-form content into massive attention. Much like the hook from her hit song "flowers & sex", she got right to the point and previewed the record in the studio, captioning the video "Teasing my music until TikTok it blows up." With over 10 million streams on Spotify alone, you certainly can say it did.
Short and sweet, this excellent video by Peach Martine gave her fans insight into a cool part of being a musician. Here, she previews how she created a Spotify Canvas for one of her singles. Insight like this helps people connect with you as an artist, which naturally leads to more listeners.
Finally, the band Games We Play used Tiktok to talk about how they were feeling and what inspired them to write a soon-to-be-released record. Again, connecting with your audience is key to guiding them to where your music is on streaming platforms.
If you're looking to learn more about how musicians can take advantage of this type of content, our previous article on the subject offers some very helpful guidance. Remember to always engage with your fans, browse through your Audio in the audio library and leave a comment or add folks' reels to your story. The same goes for TikTok! Social Media is a quick and easy way to expand your audience, and grow clout in the genre you work in.
Looking for more? Click here to learn about why you should be selling merch, regardless of the size of your act.