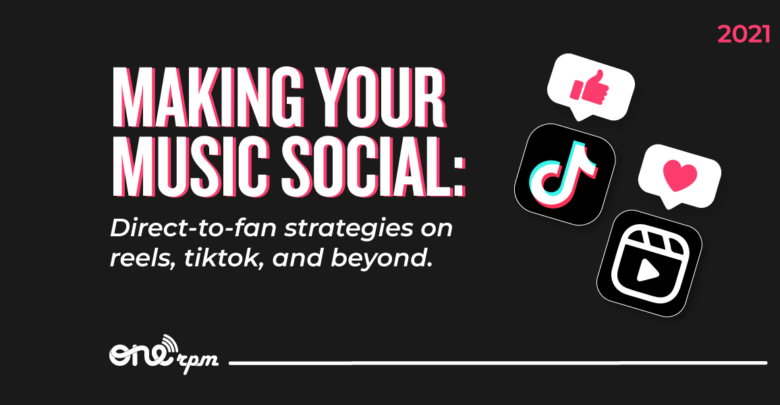 Making Your Music Social
Direct-To-Fan Strategies for Reels, Tiktok, and Beyond
HOW WE GOT HERE AND WHERE WE'RE HEADED
In a lot of ways music has always been social, visual, in addition to sonic. Long before "Video Killed The Radio Star" there were vaudevillians complaining that radio killed the jug band show. Before then, there was Beethoven purposely writing his compositions at breakneck, all-but-impossible tempos, and Mozart's insistence on improvising parts of his own performance.
All this is to say, folks have always had their sense of how, where, and by whom their music should be enjoyed. The only constant in life though is change, and things just swing. These days, social media is on the upswing and the virtual world is just as valid a place for musical rhapsody as the concert hall. It goes beyond just being a place for discovery though, there's money to be made in social music. So if you yearn for the isolation and anonymity of releasing a record without any context, you probably need to hop in a time machine and head back a few decades to when you can be a tortured artist in the shadows. Nowadays, your music needs a social component, and whether you're aggressively putting yourself out there along with it every day or not, you'll need to engage with it. 
Creating engaging content has become a core strategy for musicians and bands to succeed. More specifically, platforms like TikTok and Instagram's new Reels feature are important and necessary tools to take advantage of when looking to expand your organic reach. As some may already know, head of Instagram Adam Mosseri recently told the public "We're no longer a photo-sharing app." While this may come as a shock, it should be seen as an exciting new pathway forward for those looking to take advantage of what the platform has to offer. 
These platforms are drawing on audio libraries distributed to them by artists like yourself, and when you can launch a trend of people engaging with your Official Audio (on Reels) or your Official Sound (on TikTok), those tens of millions of video views end up paying out, just like your royalties from Spotify, Apple Music, or YouTube. The only difference here is that it doesn't have to be your Official Music Video that's getting all the views, it can be a fan, or even some random account that's never heard of you but thought of a creative way to interact with your song.
Here at ONErpm, we've gathered some best practices for Musicians looking to take advantage of Reels and Tiktok, along with some helpful info on why they can help you increase monetization across Facebook's ecosystem. 
HAVE A REASON TO POST AND MAKE A PLAN
Reels typically are 15 seconds long, however, as of July  the app now supports Reels up to 60 seconds in length. With such a small time frame, it's key that you make a big impression, so grab folks' attention right from the jump. Unlike stories, which are often being made in real-time, Reels and TikToks can be planned, filmed, and edited before posting. Moreover, both platforms offer exceedingly fun ways to edit and play with your video so you should feel free to express yourself as wildly as you want. Take your time creating multiple pieces of content, perhaps taking advantage of certain trends you see and try to make it your own. Not every Reel you make should rely on using your own music. Successful Reels usually combine something personal with a larger trend tied to audio. Once you begin to incorporate different trending pieces of audio into your content mix, it will give your audience new insight into who you are, and help make them feel connected to you as an artist. 
The best time for you to have posted was yesterday, but the second best time is today. Create mountains of content, and post regularly to keep your audience engaged. One helpful way to plan out a content strategy like this is to think about a few key verticals or themes you want to address and the hashtags that relate it back to you on Sunday, then shoot 21 ten second videos that day that you can then space out with three posts a day for the next week.
Maybe your major themes are daily life, nature, humor, and crafts. If you set aside fifteen minutes to record a five part series about your latest macramé on Sunday, your regular posts about it over the next week will build up the anticipation for it. Moreover, the nature videos you took that day – of your hike, the waterfall, the sunset, and you climbing a tree – will serve to break up the feed so it doesn't feel like you're just sharing a five minute long video in a series of one-minute iterations.  Beyond this, your relatable and humorous videos will give viewers a more full picture of you as a person beyond just the thing they came to your page for.
This all sets you up to have an active feed full of interesting reasons to hook a potential new fan and get them to stick around. That way, when you hop into Discover on Tiktok or Explore on Instagram and see some new sound or hashtag doing numbers, you can quickly record some content to engage with it and then circle back to your regularly scheduled programming.
Don't get dispirited in the process! One of the most important things to know about these short-form video platforms is that they're rewarding the quality of engagement on the content you create, not just showing your video to your followers. So even if you have six videos in a row do under a thousand views, that's not to say that your seventh one won't catch on like wildfire and jump from 10K up to a million in the span of a day. That's why it's vital to always be posting – whatever strikes your fancy, speak it out into the world and see who it resonates with.
MAKE SURE YOUR MUSIC IS IN FACEBOOK'S AUDIO LIBRARY & TIKTOK'S OFFICIAL SOUNDS
While this should be a given, there are thousands of artists who are not distributing their music to the social media ecosystem. Do not undervalue this stream of revenue – Facebook pays out royalties for both the sound recording and the composition on placements including its Premium Music Video, IG Live DJ streams, and user-generated content making use of its Audio Library on Reels. On Tiktok, the big metric you're looking for is overall "creations" or the amount of videos making use of your Official Sound (or an original sound that contains some of your song). The more you can encourage fans to duet with you, stitch in their own life experiences, or just have fun with the trend you're trying to create, the more videos you'll see on-platform and the closer you'll come to having a moment on-platform.
Since you're distributing with ONErpm, a best-in-class music solutions company, you can be assured your music will be found on social platforms. If you aren't, now's your chance to migrate your catalog and join us here in 2021. Being able to cash in on user-generated content on Facebook, Instagram, Tiktok, and beyond is the future of artist monetization. Don't miss the boat.
Further, make sure you're thinking about monetizing social video content that uses your music. A single lyric or moment in your record can go viral because of its use as a punchline or key moment during a Reel or TikTok. Don't be picky about how people are using your music. Whether they're starting a fashion trend with it, decontextualizing your lyrics for a laugh, or playing the music for their cat, a view is a view, and you want users on these platforms to feel that the music you've made speaks to whatever moment they're in. 
ONErpm artist Elohim is an excellent example of an artist taking full advantage of Tiktok and Reels. For her release "Strut", Elohim incorporated the theme of walking the runway into a series of Tiktoks and Reels that her audience ate up. A trend then emerged where people would switch outfits with the beat of the song, showing off exactly how they "Strut". While Elohim's social presence isn't always focused exclusively on marketing her music, her Tiktoks around this time very much were. She engaged with people using the sound, commented under posts of people replicating the trend, and shared out her favorite videos from both Tiktok and Instagram.
Incorporating body positivity, fashion, and an extremely catchy record, this ingenious strategy propelled her single into the spotlight, and helped her find a new way to monetize the record outside of major streaming platforms, though it sure as heck also helped her run up the stream count on there too. After all, that's the point of this short-form video in the end, it's a reflection of your world at the moment, that's why these platforms so accurately reflect the overall zeitgeist of music and culture so effectively.
So while your day-to-day posts on these platforms can represent whatever strikes your fancy at the moment, when you're creating content using your Official Sound or Audio, you should think first about whether the content you're making is something that will grab people, inspire them to interact with it, and make your music hook into their mind. It's a rare opportunity to have a minute of somebody's undivided eyes and ears on these short-form video platforms – make sure you front-load something exciting into the first three seconds of the video and give them a reason to stick around and hear you out.
PARTNER WITH INFLUENCERS AND CONTENT CREATORS
If your goal is to get your music in front of thousands of people, working with content creators is an excellent way to start. Influencers and content creators have access to a highly engaged audience that likely does not know about your work. By working with them, you not only access that audience but give your music a greater opportunity to be adopted by that audience. If you're creating great content on these platforms, you ought to be able to find folks that will want to collaborate or swap posts, interacting with each others' Sounds and trends – it can't hurt to send DM, shoot your shot. 
If you're looking to learn more about how musicians can take advantage of monetizing their content on Facebook and Instagram, this article from Forbes offers a lot of great insight. Remember to always engage with your fans, browse through your Audio in the audio library and leave a comment or add folks' reels to your story. The same goes for TikTok!
Now that you have some new knowledge about Reels, hop onto IG and get started posting! 
Click here to learn about why you should be selling merch, regardless of the size of your act.