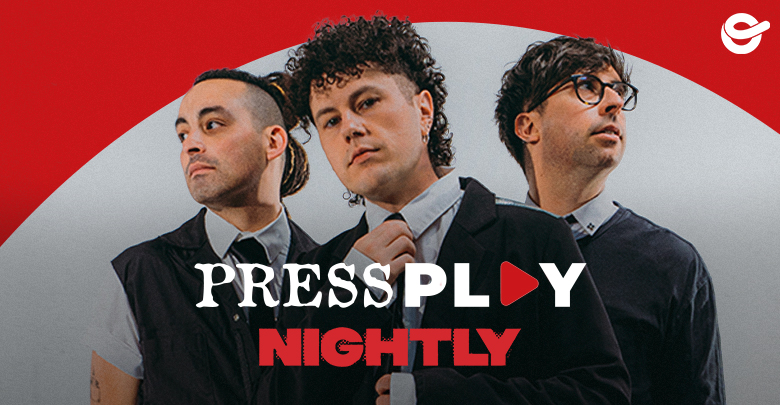 Nightly: Press Play
Wear Your Heart Out, Sophomore album by Nashville Indie Pop band Nightly, out now!
Nashville pop band Nightly are taking over the indie airwaves and headlines of your favorite blogs with their new album Wear Your Heart Out. 
#ONErpmFam, we are so beyond excited to see  this hardworking trio get the recognition they deserve. Check out a few of the countless articles written about the album, their featured singles, and some all-around great interviews below. 
Featured Press: 
People Magazine: Nightly Donates Music Video Budget to Rescue Shelter Exclusive 
ET Online: New Music Friday, July 14
Idobi Radio: Nightly Expand, Explore Beautifully on Wear Your Heart Out 
ET Online: New Music Friday, August 25 
No Country for New Nashville: Nightly On New Album Wear Your Heart Out
Euphoria Magazine: Wear Your Heart Out Review 
Pop Entertainment: Getting To Know Nightly
Variance Magazine: New Songs, August 25
Nightly Bio: 
Nashville-based alternative pop band Nightly is comprised of Jonny, Joey, and Nick. They named the band after a texting abbreviation for "night, love you."
They have toured extensively for both headline tours and in support of artists including: NF, Andy Grammer, The All-American Rejects, K.Flay, and the Struts. Summer 2022 saw Nightly performing Hang Out and Firefly Festivals, as well as supporting The Midnight on their west coast tour. In Fall 2022 Nightly hit the road for their east coast headline tour, selling out venues in Orlando, D.C. and Boston, as well as playing their largest headline show to date at Nashville's Brooklyn Bowl with over 1,000 tickets sold. This February Nightly opened for Kane Brown and Imagine Dragons at Super Bowl Music Fest in Phoenix, AZ.
After consistent success with their earlier EPs, singles and feature on ayokay's song "Sleepless Nights," Nightly released their debut album "night, love you" in 2020. 2022 collaborations include "About You" with NOTD, "Amnesia" with Ayokay, and "why u gotta be like that" with Vaultboy. In response to high demand from fans on TikTok, Nightly released 'hate my favorite band,' 'on your sleeve,' 'dirty white chucks' and 'i wish you loved me,' followed by their most recent releases ''radiohead' and 'dry eyes'. Their anxiously awaited sophomore album, Wear Your Heart Out, is out now!
​​Looking for more? Check out all of the latest from the ONErpm blog here!