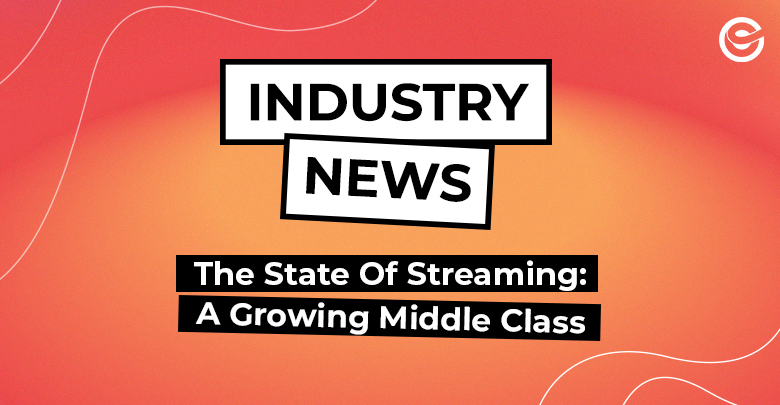 The State Of Streaming: A Growing Middle Class
How Did The Industry Change in The Year of 1 Trillion Streams?
This past week Music Business Worldwide reported on 2022's top hits, and their rapidly shrinking percentage of the overall streaming total. Let's take a deeper look into these figures, and what they mean in a year that tallied a record breaking 1 trillion+ total streams.
The underlying class system within the music industry is age old, and well weathered. Through various changes in medium and form, the idea of 2 central groups- the megastar, and the starving artist- has persisted through generations. Only in the last decade has this divide started to shrink with the onset of streaming music, and the creation of a new middle class of musicians. This brings us to today, a new height in music consumption with over 1 trillion total streams recorded in 2022, and an unprecedentedly low percentage of market share reported by those at the top.
This week Music Business Worldwide reported on this market shift through an article examining the top 10 hits of 2022 and their percentage of total annual streaming compared to years prior. While year over year change suggests marginal shrinkage from 0.5% of total annual streaming to 0.425%, a ~5 year view provides a more compelling trend-line. In fact, since 2019 the market share that the top 10 hits represent has been cut in half.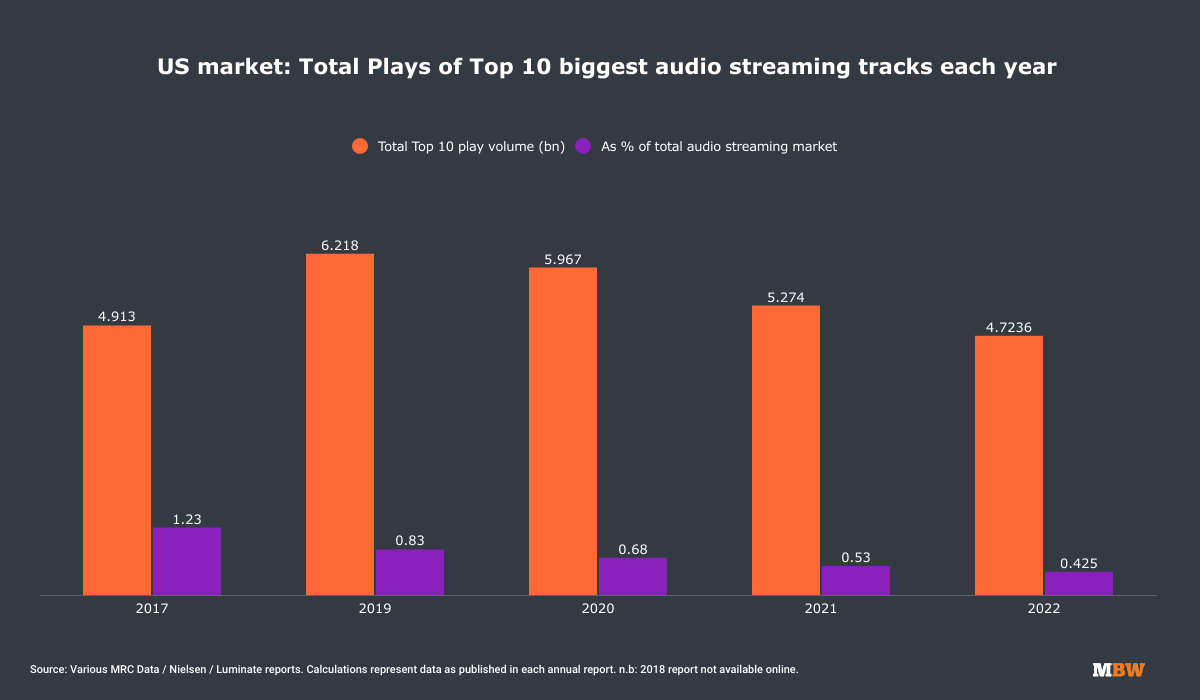 While this change in market share at the top represents only a laughable percentage of the biggest companies' bottom lines, it does imply a larger movement within the industry that could quickly become actionable. Outside of the obvious explanation for this trend (an increase in overall streaming), the idea that listeners are consuming more music from acts that don't always chart on Billboard's Hot 100 is an impactful change in behavior that suggests massive long-tail implications.
More specifically, this lends itself to smaller artists and labels who regularly work smarter, signing acts to more credible, reasonable terms. This is not something unusual within the industry, there have always been those who set out to work smarter, but the market has never supported the endeavors of such groups. Long term this change could see the growth and development of music's middle class into a powerful collective capable of  competing with the majors through savvy deals, rather than outright financial power.
What this means for artists with established and growing fanbases, is that the timing has never been better for aggressive investment in growth. The opportunity to carve out a large and profitable niche in the market is only growing, so whether it means a new TikTok strategy, more aggressively pursuing press, and playlists, or increasing your release schedule and amplifying your efforts around it with our new Amplifier tool, it's time to seize the day and make 2023 your year.