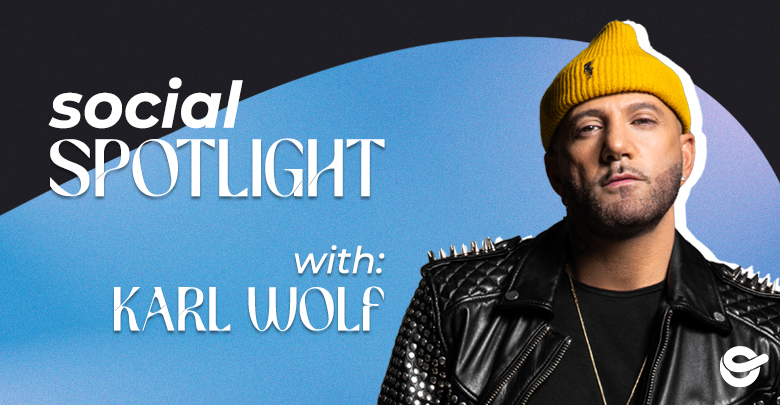 Social Spotlight: Karl Wolf on TikTok
Karl Wolf is well-known as one of the most versatile and dynamic pop and dance producers out there, but did you know he's killing the TikTok game? On a platform that thrives on sound, Karl Wolf has made a name for himself remixing popular tracks and cooking up new beats daily. Tap in and take a look at Karl Wolf on TikTok.
Build a Visual Brand
On TikTok, people decide whether or not they want to watch a video or keep scrolling in seconds. Music and audio alone is not enough to catch an user's attention: it has to be compelling visually. Building your visual brand is a great way to be instantly recognizable and encourage viewers to stop scrolling. 
Karl has a few signature visual elements that he uses across his videos – the neon color scheme, his home studio with the purple backlight, baseball caps, direct eye contact. Each of his videos has at least one of these elements. Choosing a few signature visual elements – framing, color scheme, clothing style, etc. – is vital to establishing a visual signature. However, you want to keep your videos from looking too similar, since you don't want fans to scroll past your TikTok thinking that they already watched it. So move your camera around, mix up the wardrobe, and get animated with those vital first seconds each time!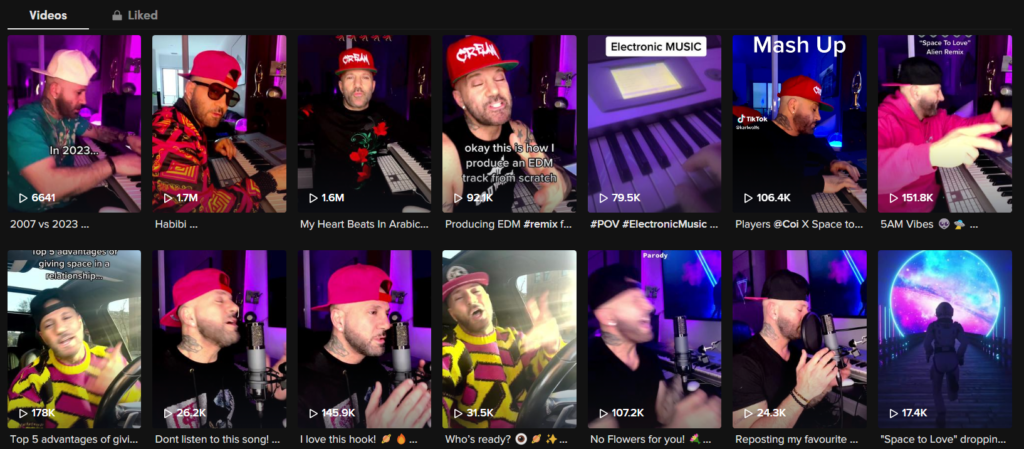 Add your own Spin
One of the best ways for an artist to reach a new audience is to cover or remix a popular song in their own style. The spark of recognition gets a viewer's attention and makes them feel more engaged with the content. Then, while you have their attention, you can show off your skills and show the audience who you are.
Karl Wolf has made a name for himself by remixing famous songs, and his TikTok page is no exception. Karl doesn't hesitate to jump into a big trend, either. When "Running Up That Hill" was trending last year in the wake of Stranger Things season 4, Wolf did an EDM remix that generated nearly 200k views tying together West Coast bass music, down south Bounce House, and the classic synths of the 80s. More recently, his Arabic remix of "Yeah!" by Usher has taken TikTok by storm, showing off both his talent for remixes and his Lebanese heritage. Besides using his signature captions like "🔁THAT," he includes background information and tidbits of history interspersed throughout the videos to give people a reason to keep paying attention.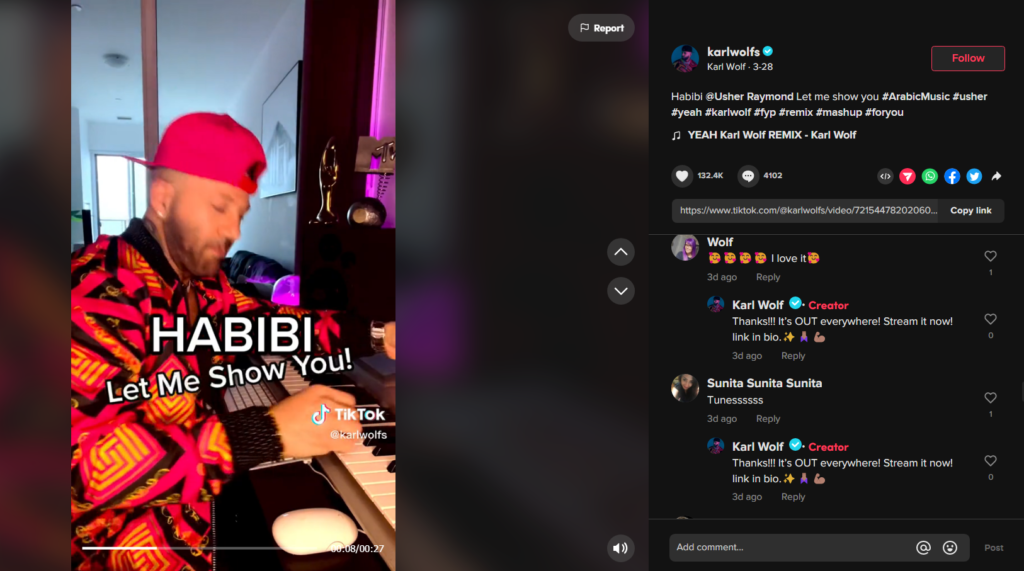 Challenge Your Audience
A great way to generate more video creates using your sound is to directly challenge viewers to duet with you. Getting creates – that is, getting people to reuse your audio in their own post – is the key to virality on TikTok. Encouraging duets not only increases your sound's views and creates, but it also gets fans to share your music with their followers. 
Karl Wolf has done several #openversechallenge videos where he asks fans to add their own verse to one of his tracks. He's also very engaged when others duet with his beatmaking videos, which has led to some great partnerships like his duet with Chrissy Spratt that lead to her being featured on the official track on his album.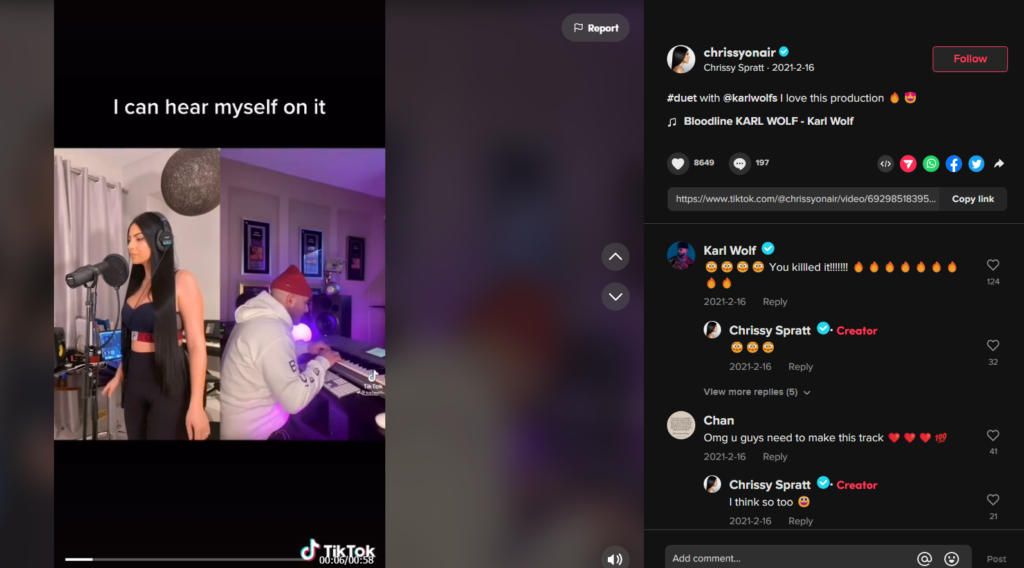 For more TikTok tips, check out our Social Spotlight on Taylor Acorn.