Spotify Marquee: What Is It, And Why It's Great
The Promotional Feature Should Be A Crucial Part Of Your Marketing Mix
Spotify Marquee, a new promotional tool available in certain regions from the streaming platform, should be a regular addition to your single or album marketing mix if it isn't already.
What Is It
According to Spotify, "Marquee is a full-screen, sponsored recommendation of your new release to Spotify Free and Premium listeners who have shown interest in your music and have the potential to listen more." Unlike traditional ad booking, it gives artists the ability to target their audience by listening history. Further, the actual ad is served as a notification to the listener "right when they're deciding what to listen to."
Why Is It A Great Tool
With budgets beginning at $250 dollars, it's an affordable way to reach listeners who haven't intentionally streamed the release you're promoting. Spotify also claims that a Marquee campaign creates a halo effect for the rest of your discography. According to internal data, "people who see a Marquee and stream the promoted release are 3x more likely to stream the artist's other releases."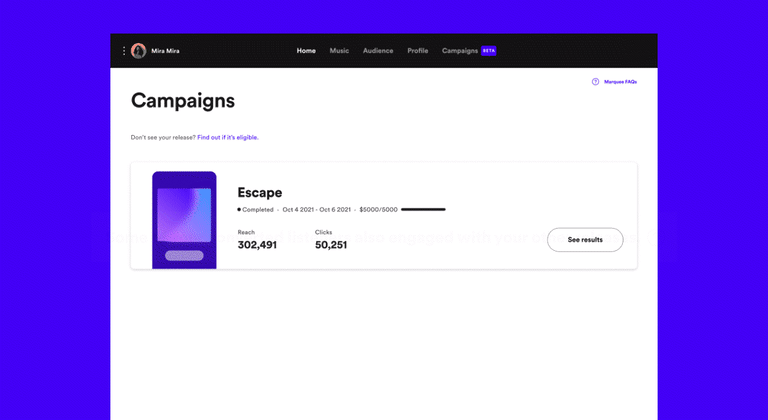 How You Can Book A Campaign
In the United States, artists who have had 15,000 streams in the past 28 days may have access to the self-service tool in Spotify For Artists. For other countries, like the UK, Germany, Canada, and others, you can fill out this form to book a campaign through a Spotify representative. At ONErpm, we encourage all of our artists to take advantage of Marquee if they qualify. It's a powerful and budget-friendly way to grab new listeners' attention.