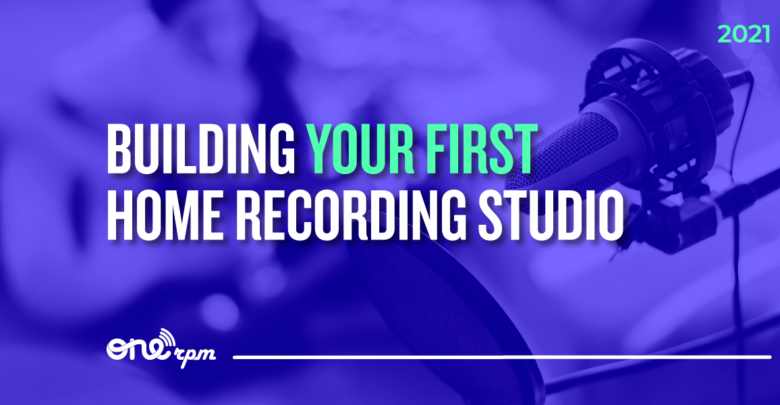 Building Your First Home Studio
On Your Marks...Get Set...Record!
For many artists, their first step into recording music comes when they book studio time. Unfortunately, creativity doesn't operate in 3-hour windows. Further, at rates anywhere from $75 to $300+ hours, it can very quickly take a chunk out of your budget. That's why we're breaking down how to build your first home studio for the #onerpmfam. In this piece, we're going to go over the essential equipment necessary to begin creating your own songs at home.
Computers, DAW's, and RAM
At the center of every modern studio setup, is the computer. Whether it be a laptop or desktop, that CPU is going to be what processes all of your audio. Even more, your computer is your workstation. It needs to be powerful enough to run your DAW (digital audio workstation), comfortable to use for long periods of time, and have enough RAM to process audio in real-time without significant latency. Consider investing in a solid desktop computer. Even if it's prebuilt, you can easily increase your RAM (random access memory) while also retaining the option to install a new hard drive or solid-state drive. Simply put, a desktop setup is highly upgradeable. As your needs and experience increase, you can adapt your recording setup, whether it be new computer parts, a new mouse or keyboard, or even splurging on that fancy curved monitor.
Audio Interface
Between those amazing vocals you're recording, and the DAW running on your brand new desktop, is your audio interface. If your computer is the brain of your home studio then your interface is certainly the heart. Featuring anywhere from 1-16 inputs, and 2-8 outputs, a good USB interface provides you with tangible control of your gain, volume, and mix. If you're just getting started, look for something with 2 outputs for speakers, and 1-2 inputs for a microphone and an instrument. You should be able to easily run an XLR cable for your mic, while also having the option to plug in a 1/4 inch cable for a guitar.
Interfaces play a significant role in the way audio you create get's processed. Latency, as we briefly mentioned before, is the enemy of a good recording workflow. Think of latency as the time it takes for audio to go from your mic to your speakers or headphones. If you're singing into a microphone, you don't want a delay between your voice and what you hear in your headphones.
Mic, Studio Monitors, and Headphones
Choosing the right microphone for your home studio is crucial. First, you'll want to look for what is known as a condenser microphone. Not sure what that means? In a follow-up post, we'll be getting into the technical specifications of studio equipment, so don't worry. For now, just remember that condenser mics need what is known as phantom power. Most audio interfaces will have a small switch labeled "48V". Turning that on will power your mic, enabling you to begin the vocal, or instrumental recording process.
Obviously, all that signal needs to have an output somewhere. That's where your monitors and headphones come in. When it comes to studio monitors, there are two main categories: active and passive. As you may be able to infer, active monitors have built-in power amplifiers. All they require from you is to plug them into an outlet. Look for a pair of active studio monitors that fit the space you are working in well. You may choose to put them on stands, keep them on a desk, or buy a pair of isolation pads to place underneath them. Most monitors are a part of a series, differentiated only by the size of the woofer. Since you're just starting, go for practicality.
Last not but not least; the headphones. Having comfortable studio headphones is absolutely vital. When you're recording a vocal take, those headphones are going to be giving you an idea of how you sound. They'll also serve as a vital secondary reference point for your mix. Remember, the way your mix sounds on your monitors might not be the way it sounds in the car, or in your headphones.
Now that you know what you're looking for, get started building! Research equipment costs and functionality, or just wait until our follow-up piece where we'll do exactly that. Looking for more helpful info? Use this link to check out all of our Artist Guides.